M.Sc. Alumni Report 2021
Alumni report of İstanbul Bilgi University Economics Graduate Program is published.
Since its establishment, 76 students graduated from the M.Sc. Program in Economics.
Amongst our alumni, 54 graduates were placed in Ph.D./graduate programs.

26 of them in Turkey,
28 of them abroad.

14 graduates were placed in non-academic positions.

12 of them in Turkey,
2 of them abroad.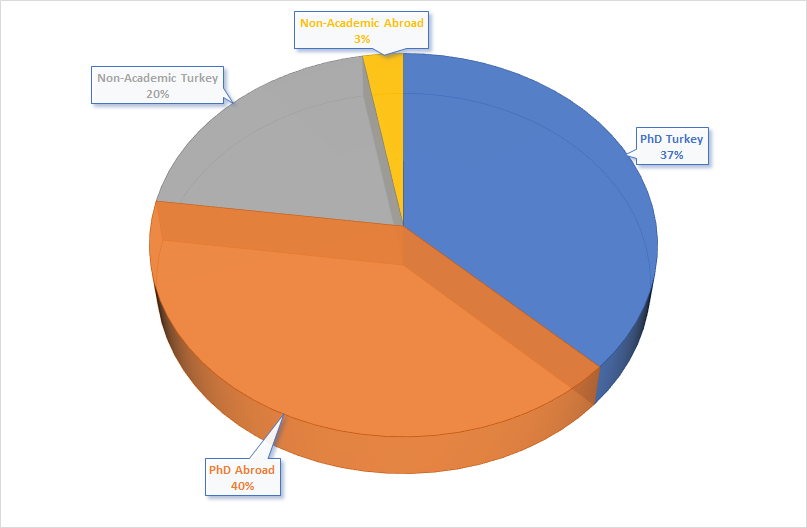 Graduate Program Placements:
Barcelona Graduate School of Economics
Berlin School of Economics
Bocconi University
Boğaziçi University
Center for Monetary and Financial Studies (CEMFI)
Düzce University
École Polytechnique
Georgia State University
Hartford Seminary
İstanbul Bilgi University
İstanbul Technical University
İstanbul University
Koç University
Maastricht University
Marmara University
Rice University
Rutgers University
Sabancı University
The City University of New York
Tilburg University
Universidad Carlos III de Madrid
Universidade Nova de Lisboa
Universitat Autonoma de Barcelona
Universitat Pompeu Fabra
Université Catholique de Louvain
Université Paris-Dauphine-Lamsade
University of Bologna
University of Konstanz
University of Manchester
University of Milano-Bicocca
University of Minnesota
University of Trento
Vanderbilt University
Washington University in St.Louis
William Marsh Rice University
Yıldız Technical University
Non-Academic Placements:
Akbank
BankPozitif
Consulate General of Brazil
Development and Investment Bank of Turkey
Garanti BBVA
Garanti Pension
Getir
LiondellBasell
Mercedes Benz Türk
PwC
Quandoo
Turk EximBank
Türk Telekom
Yapı Kredi